The Mossadegh Foundation, established in Carouge (Geneva Canton, Switzerland), is governed by Swiss law. Inaugurated in 2000, it is managed by a secretary under the supervision of a Board of Trustees. Several staff and volunteers are involved in the development of its' activities.
The Foundation took its name as a tribute to the illustrious Prime Minister of Iran, who deeply influenced the political life of his country during the twentieth century. It is driven by the liberal and democratic spirit that this political leader had at heart to ensure the national sovereignty of Iran.
The Mossadegh Foundation intends to help preserve the memory and thoughts of this statesman.
The Purpose of the Mossadegh Foundation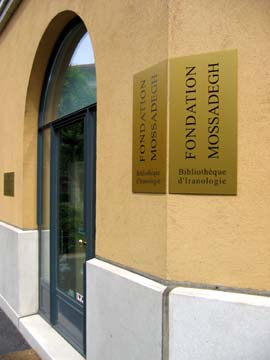 A nonprofit organization, the Foundation was established thanks to a generous donation from its' founder. Today it is funded with the income from this contribution and receives no financial assistance from public authorities.
The Foundation's goal is to make available a comprehensive knowledge of Iran to a large audience through Iran's culture, history, religions and geopolitical situation. To achieve this, and parallel to the various conferences held, the Foundation's Library offers a large number of books to the curiosity of visitors.